Octane Fitness has adapted the iconic Airdyne Pro for commercial use with the all new AirdyneX. Building on the Airdyne's long heritage of innovation and performance, the self-powered AirdyneX boasts Octane's trademark durability, with heavy-duty construction and a moisture-repellant frame.
With a user-defined pace and resistance, the AirdyneX accommodates all exercisers; from beginners to athletes. High-intensity interval training programs include 20/10 interval, 30/90 interval and custom routines, where exercisers can challenge themselves to bury the needle on the console tachometer.
26-blade performance fan
Performance drive system
Single-stage belt for instant activation
Smooth motion
HIIT training
Calibration technology
Essential workout stats and tachometer
Moisture-repellent, double-coated steel body construction
Biomechanically correct positioning
Fore/aft seat and height adjustments
Oversized, cushioned seat
Anti-slip, triple-sided foot pegs
Cordless operation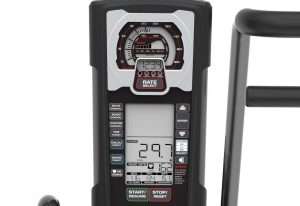 Console Technology
Simple and intuitive to navigate, the digital display delivers essential stats at users fingertips. Get into a program at the push of a button; track performance in heart rate, RPM, distance, watts and calories.
Plus, the tachometer visually signals how hard the user is exercising and provides the average calorie burn per minute. Users will indulge in the compulsion to push harder to bury the needle! This handy, motivational tool keeps users giving it all they've got!
Performance Fan
Unbeatable in delivering progressive wind resistance and smooth motion, the AirdyneX bike is equipped with a premium, 26-blade performance fan and a weighted inertia ring that ensure that your output maximizes your input and help deliver safe start-ups and slow-downs.
The performance fan is the heart and the distinctive asset of the AirdyneX bike.
AirdyneX Fan v. A Leading Competitor
It's simple to see why the AirdyneX bike is superior. With its custom-designed, 26-blade performance fan and single-stage belt drive, the AirdyneX bike responds to an exerciser's power, and helps to reduce wasted energy for more efficient, effective workouts.
Efficient Belt Drive
The beauty of the AirdyneX bike also lies in its responsive belt drive, which responds instantly to the users power so that they're as efficient as possible and don't lose momentum.
Other bikes with chain drives use two-power transfer systems, so your energy must transfer from one chain to the next, and power could be lost in this process. Plus, with a smooth belt drive, users are not subject to the constant loud sounds or jerky movement of the chains – for a quieter, more pleasant workout experience.
HIIT Training
With HIIT, users tackle short bursts of all-out effort, followed by brief recovery. Then do it again and again, and they can enjoy powerful conditioning, a faster metabolism and better results.
The AirdyneX bike features invigorating workouts like 20/10 Interval, 30/90 Interval or custom interval routines that motivate users to achieve more and improve their fitness level.